Laser Hair Removal with 755, 808 & 1064 Diode Laser- H8 ICE Pro
Product Detail
video
Product Tags
755nm for the widest range of hair types and color- especially light-colored and thin hair. With more superficial penetration, the 755nm wavelength targets the Bulge of the hair follicle and is especially effective for superficially embedded hair in areas such as the eyebrows and upper lip.
808nm has a moderate melanin absorption level making it safe for darker skin types. Its deep penetration capabilities target the Bulge and Bulb of the hair follicle while moderate tissue depth penetration makes it ideal for treating the arms, legs, cheeks and beard.
1064nm Specialized for darker skin types. 
1064 wavelength is characterized by lower melanin absorption, making it a focused solution for darker skin types.At the same time, the 1064nm offers the deepest penetration of the hair follicle, allowing it to target the Bulb and Papilla, as well as treat deeply embedded hair in areas such as the scalp, arm pits and pubic areas. With higher water absorption generating a higher temperature, the incorporation of the 1064nm wavelength increases the thermal profile of the overall laser treatment for most effective hair removal.

With ICE H8+ you can adjust he laser setting to suit the skin type and specific characteristices of hair thereby offering your clients maximum safety and effectiveness in their oersonalesed treatment.
Using the intutive touch screen,you can select the required mode and programes.
In each mode(HR or SHR or SR) you can adjust the settings precisely for the skin and hair type and the intensity to obtain the required values for each treatment.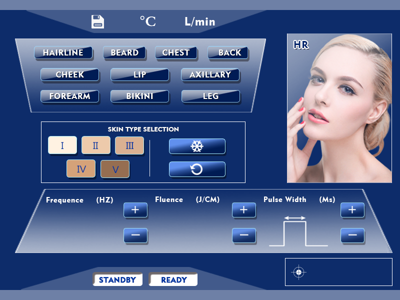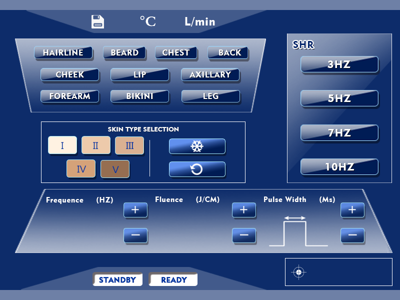 Double Cooling System: Water Chiller and Copper Radiator,can keep the water temperature low, and the machine can work continuously for 12 hours.
Case card slot design: easy to install and easy after-sales maintenance.
4 picecs 360-degree universal wheel for easy movement.
Constant Current Source:Balance current peaks to ensure laser life
Water Pump:Imported from germany
Big Water Filter to keep the water clean
| | |
| --- | --- |
| Laser Type | Diode Laser ICE H8+ |
| Wavelength | 808nm /808nm+760nm+1064nm |
| Fluence | 1-100J/cm2 |
| Application head | Sapphire crystal |
| Pulse Duration | 1-300ms (adjustable) |
| Repetition Rate | 1-10 Hz |
| Interface | 10.4 |
| Output power | 3000W |
---
---
Write your message here and send it to us