The dental lasers from Triangelaser is the most reasonable but advanced laser available for soft tissue dental applications, the special wavelength has high absorption in water and haemoglobin combines precise cutting properties with immediate coagulation.
It can cut the soft tissue very fast and smoothly with less blood and less pain than ordinary dental surgery device. Aside from an application in soft tissue surgery, it is also used for other treatments such as decontamination, biostimulation and tooth whitening.
The diode laser with a wavelength of 980nm irradiates biological tissue and can be converted into heat energy absorbed by the tissue, resulting in biological effects such as coagulation, carbonization, and vaporization. So 980nm is suitable for non-surgical periodontal treatment, has bactericidal effect and helps coagulation.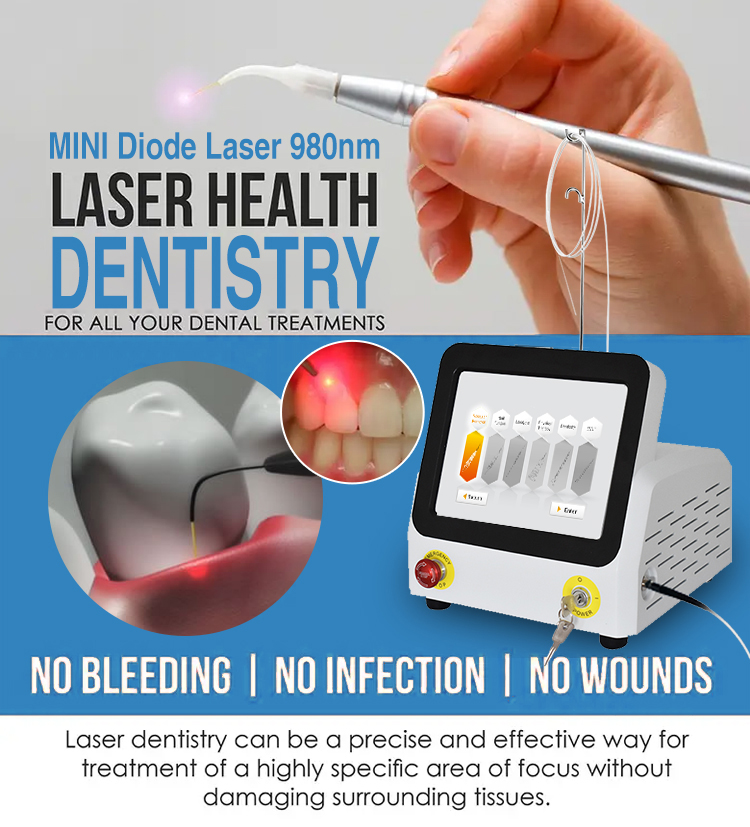 Advantages in Dentistry with dental lasers
1.Less and Sometimes No Blood Loss for Surgery
2.Optical coagulation: Seal blood vessels without thermal cauterization or carbonization
3.Cut and coagulate precisely at same time
4.Avoid collateral tissue damage , increase tissue-protecting surgery
5.Minimize post-operative inflammation and discomfort
6.Controlled depth of laser penetration accelerated patient healing
Soft tissue procedures
Gingival Troughing for Crown Impressions
Soft-Tissue Crown Lengthening
Exposure of Unerupted Teeth
Gingival Incision & Excision
Hemostasis & Coagulation
Laser teeth whitening
Laser Assisted Whitening/Bleaching of Teethure.
Peridontal procedures
Laser Soft-Tissue Curettage
Laser Removal of Diseased, Infected, Inflamed & Necrosed Soft-Tissue Within the Periodontal Pocket
Removal of Highly Inflamed Edematous Tissue Affected by Bacteria Penetration of the Pocket Lining & Junctional Epithelium
Are Laser Dental Procedures Better Than Traditional Treatments?
Compared to non-laser treatment, they may be less expensive because the laser treatment is usually completed in fewer sessions. Soft tissue lasers can be absorbed through water and hemoglobin. Hemoglobin is a protein found in red blood cells. Soft tissue lasers seal nerve endings and blood vessels while they penetrate the tissue. For this reason, many experience almost no pain after laser treatment. The lasers also promote faster healing of the tissue.
---
Post time: Sep-13-2023